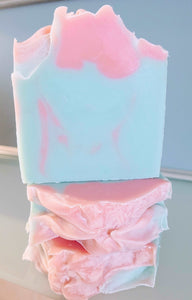 Treat yourself to a luxurious shower with Blooming Orchid - its heavenly soft, sudsy floral fusion of Bergamot, Bright Lemon, Sweet Orange, Pink Jasmine and Musk will have you feeling like you've taken a trip to the spa! An oh-so-luxe shower experience awaits you - don't miss out!
Experience the delightful 4oz/114g of pure perfection that is Blooming Orchid! Filled with all-natural ingredients like Saponified Organic Oils of Avocado, Coconut, Palm, and Castor, plus Aqua, Kaolin Clay, Fragrance/Essentials Oils, and Colorant, it'll make you feel like you're in another world!
This handcrafted Blooming Orchid soap bar is perfect for external use. For precaution, we recommend testing a small area before full use. With its irresistible scent, this bar is sure to delight all your senses.