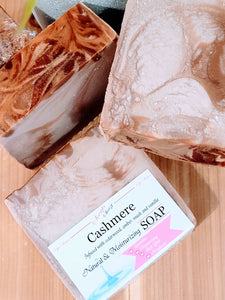 Ignite your senses with Cashmere, a warm and inviting masculine fragrance! Perfect for the man / lady who wants to add a little more coziness to his/her life, this unique blend of cedarwood, amber, musk, and lush vanilla is sure to become your new favorite. Wrap yourself in the soothing scent of Cashmere! 
Sold per piece 4oz/114g.  Ingredients: Saponified Organic Oils Of (Olive Oil, Coconut Oil, Palm Oil, Castor Oil), Aqua, Essential/Fragrance Oil, Kaolin Clay, Colorant.
Our Cashmere soap is specifically formulated for external use, making it safe for your skin. We recommend spot testing prior to full use for your safety. Each batch of soap is handmade and the appearance may differ from the picture shown, but the scent will remain the same. Treat yourself to a luxurious experience with Cashmere soap.