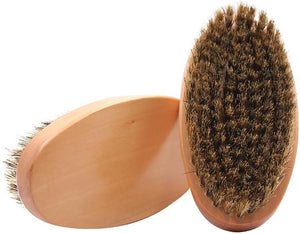 Untangle your beard and elevate its appearance with our super-dense boar bristle Beard Brush. Crafted for shaping, taming, and styling beards of all lengths and thicknesses, our brush ensures a shiny, smooth texture. The stiff boar bristles, with optimal density, effectively tame even the most unruly beards. Each bristle is perfectly spaced, allowing for seamless gliding through your facial hair, enhancing its overall look and feel.
Benefits: 
Hydration Boost:  Evenly distribute the scalp's natural oils with each stroke, enhancing beard softness and imparting a healthy shine.
Gentle Cleansing:  Effortlessly remove dandruff, dust, and impurities, ensuring a clean and well-groomed beard. Bid farewell to tangles with ease.
Effortless Styling:  Daily combing stimulates hair follicles, promoting a layered and healthier beard growth while eliminating static electricity for a smooth, styled finish.