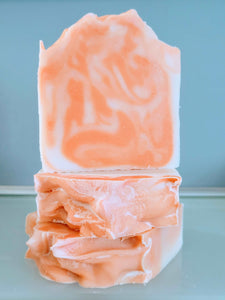 Discover zen-like peace and happiness with our Orange Patchouli body soap! Bathing with this blissful blend of citrus and earthy aromas is the perfect way to grab some "me-time" and get your oomph on! Your senses will be dancing! Be chill, be bright and be clean with Orange Patchouli.
Sold per piece 4oz/114g.  Ingredients: Saponified Organic Oils Of (Avocado Oil, Coconut Oil, Palm Oil, Castor Oil), Aqua, Kaolin Clay, Fragrance / Essential Oils, Colorant.
This Orange Patchouli soap bar will have your skin feeling clean and smelling great! You can use it for external use only and make sure to spot test first. Each bar will be a unique (and beautiful!) creation, but the scent will always remain the same! Who knew being clean could be so fun?!